Google Ranking Factors – Better rankings thanks to targeted SEO
What are Google ranking factors and what do they do?
Which Google ranking factors are there?
The core ranking factors
You should keep your hands off these!
Page Experience and Core Web Vitals as THE new ranking factor?
Conclusion: Greatness as the most important ranking factor of all
In the Google universe, a lot of things revolve around ranking factors. There are said to be more than 200 of them and all of them have an influence on where you and your site are placed in Google search. If that doesn't sound like a mammoth task to have all of them on the radar! But don't worry, in our article you will learn which ranking factors there are and which are the core factors that you should definitely pay attention to. This is how you manage to achieve better rankings!
What are Google ranking factors and what do they do?
Let's get to the first point: What are these ominous ranking factors? If you want to optimize your site for search engines, you have probably come across this term several times. In fact, there are countless factors that influence how visible your website is placed in Google search. This has a very simple reason: ranking factors are exactly the signals that Google considers important for a website. If the search engine registers them, it tells it that your site is "good" and offers added value to the searcher. Because this is Google's declared goal, top rankings in the SERPs follow as a logical consequence.
Which Google ranking factors are there?
Google has now defined numerous ranking factors. Not all of them are officially titled as such, but SEOs have established the connection of those factors with a good positioning within search engines in the past. Their influence affects both OnPage and OffPage. But with well over 200 factors, it is difficult to keep track of them all. A prioritization is necessary! Only then you can determine which ones you should focus on. Because it is clear: Some ranking factors have a greater influence than others. We will go into this in more detail in the next paragraph.
The core ranking factors
The 10 most important OnPage factors
There are of course many more OnPage factors, but you can't get around these ten: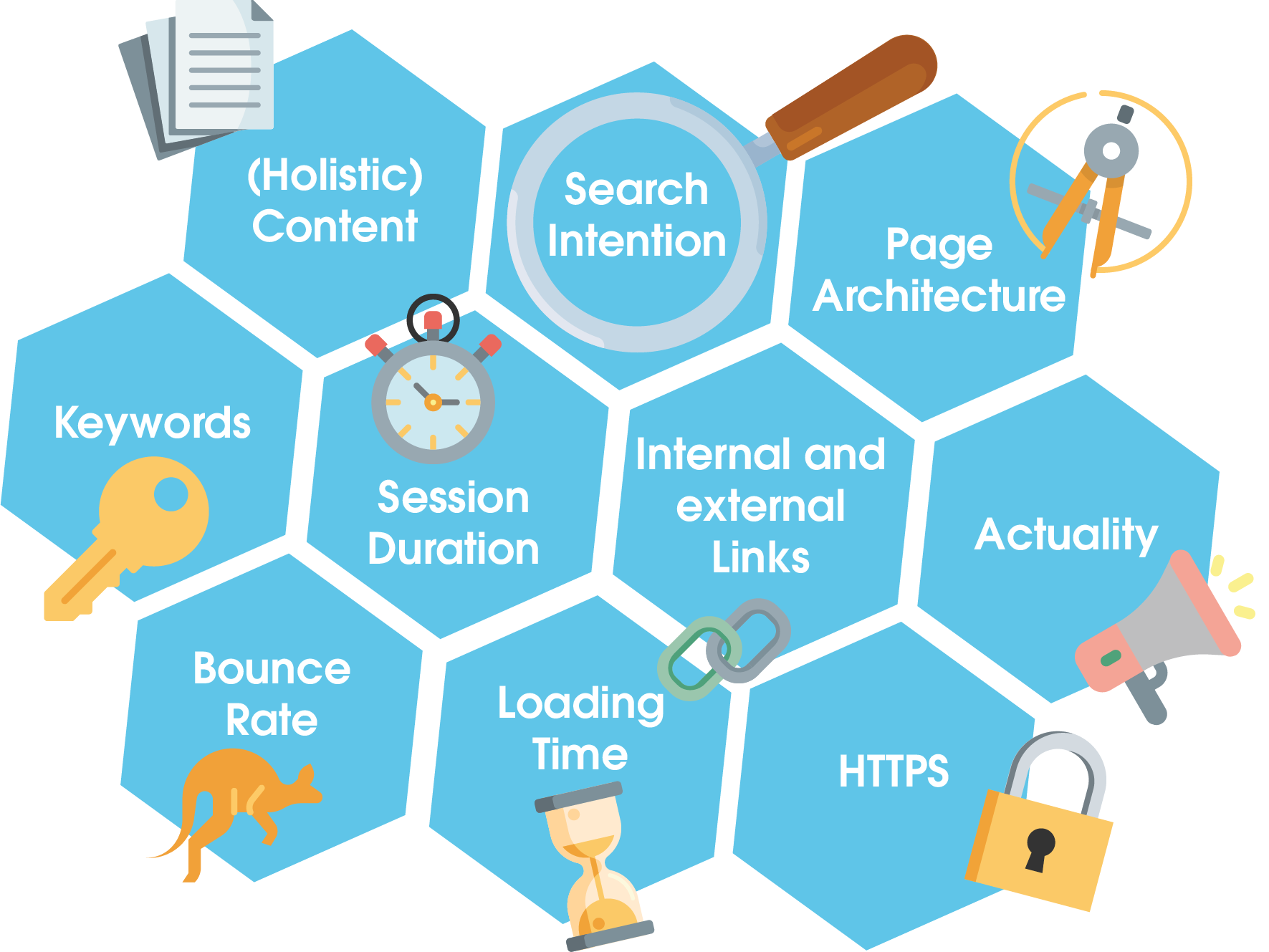 (Holistic) Content
Without good content, nothing will work on your page. So-called holistic content and its quality are therefore one of the most important ranking factors. Google has been expanding semantic search for years. Updates such as BERT and SMITH train the algorithm to understand connections and relationships between words and thus their context. This way, it recognizes the actual added value that your users get from your content. According to the search intentions of the users, the algorithm therefore displays suitable content even more targeted to search queries. Multimedia content is also important. A picture is worth a thousand words – so visualizing your content is a clear plus! Moreover, in addition to rankings in the normal SERPs, you can also achieve a positioning in the image search.
---
TIP: Know the search intentions of your users! Do they want to be informed, buy or a mixture of both? Align your content accordingly.
---
Search intentions
The search intent tells you what the user expects from the content of your page. Google analyzes this and provides the user with the appropriate content. Roughly, search intentions can be divided into four areas:
Informational – the user wants to know something
Transactional – The user wants to perform an action
Navigational – the user is looking for a specific website or physical location
Multi-Intent – The user has multiple search intentions or the type of intention is a mix.
So, you can only rank with your content for search queries if you know what intent your target audience is searching with. If your content and the search intent match perfectly, you increase the probability of generating better rankings.
Keywords
You can only rank for specific search queries with the right keywords. For this reason, a detailed keyword research is important. It helps you to create targeted content.
---
TIP: You don't know how to do a good keyword research? In our eo:magazine you will find a comprehensive guide!
---
Keywords are not only important in the body text. You should also use them in the following areas:
Meta description
Title tag
Headings (definitely in your H1, but also in various subheadings)
In the alt text of images
Also, put a bold or italic keyword once relatively at the beginning of your content.
Topicality and "Freshness"
Der Googlebot favorisiert "frischen" bzw. aktuellen Content. Das heißt nicht, dass Du Dir jedes Mal von Neuem Inhalte an den Haaren herbeiziehen musst. Auch das Aktualisieren und Editieren von bereits vorhandenen Inhalten erkennt Google. Sind Inhalte beispielsweise stark abhängig vom aktuellen Zeitgeschehen, ist es wichtig, vorhandene Informationen auch regelmäßig anzupassen. Nichtsdestotrotz sind auch neue Veröffentlichungen wichtig, da der Google Algorithmus ebenfalls überprüft, wie oft neue Inhalte auf Deiner Domain veröffentlicht werden.
The Googlebot favors "fresh" or current content. This doesn't mean that you have to create content from scratch every time. Google also recognizes the updating and editing of already existing content. For example, if content is highly dependent on current events, it is important to regularly adapt existing information. Nevertheless, new publications are also important, because the Google algorithm also checks how often new content is published on your domain.
---
Attention: You have many publications? Try to keep track of them with an editorial plan to avoid duplicate content!
---
Internal and external links
Links, whether internal or external, are another factor that Google evaluates. Here, both the number and the relevance of the individual links are crucial. In addition, the linked domain also has an influence. The following always applies here: quality takes precedence over quantity. Google values links as so important because they are the basic component of a search engine. The reason: without links, crawling would be much more difficult for the algorithm, as it sees them as a kind of signpost and follows them. Through internal links or links to external, relevant sources (so-called outbound links) you can increase your chance of good rankings. However, make sure that your links do not lead to dead pages or 404 results. Neither the search engine nor your users will find that helpful.
---
Important: No matter if internal or external linking, the anchor text is an important factor that gives Google an indication how relevant the source behind the link is.
---
Dwell time
The dwell time is a signal that Google evaluates to find out how suitable your content was for the respective search queries of the users. If many people spend a long time on your page or on a specific article on your website, this is a sign of the added value of this article. Google concludes that the quality of the content is good and "recommends" the article by positioning it very high up for similar search queries.
---
Watch out: The dwell time is always relative and depends on the content. It is therefore difficult to make a general statement. A page with less content (e.g. an encyclopedia page) can have a lower dwell time and still be very good. Roughly speaking, however, a page with a lot of content and a low dwell time needs optimization.
---
Bounce rate
The bounce rate measures the people who do not stay on the page, but leave the page without clicking on another subpage. It is therefore interesting because it can provide conclusions about the quality of your content. If users leave your site more often than average, this may indicate that they were unable to find what they were looking for. But don't worry, the bounce rate, like the dwell time, should always be seen in relation to the content offered. For example, if you have a high rate for knowledge articles or similar, this can also mean that users received an answer to their question and therefore did not click further. So, when optimizing, look not only at the bounce rate, but also at the type of content the page offers. If you want to make sure that the content there matches the search queries, you can also additionally analyze the dwell time on the respective pages. This will give you more meaningful results.
Loading time
If you wait too long for a page to build up, you will bounce. The PageSpeed of your website is therefore a crucial factor and influences the ranking of your page. In total, the page should not take more than 1.5 seconds to load. With Google's PageSpped Insights tool, you can check how well your page loads on mobile and desktop.
Your page doesn't load fast enough? In this article you will find more tips for PageSpeed optimization!
---
Attention: The loading time will be softened by Core Web Vitals. Then, instead of measuring just one metric, three will be measured to better assess page performance. The components of Core Web Vitals are: Loading, Interactivity, and Visual Stability.
---
HTTPS or SSL Encryption
Secure pages are rated better by Google than insecure ones. Therefore, use an encrypted connection via HTTPS. This way, Google recognizes that appropriate security measures have been taken and rewards this in the form of better rankings.
---
TIP: You can find more measures for OnPage optimization here in our eo:magazine!
---
Page architecture
The structure and layout of a page is critical when it comes to how users find their way around. Especially the website navigation, but also the page architecture itself are important factors here that increase usability. But a certain order is not only necessary for your website visitors. The Googlebot is also happy about a clear structure, which it can easily follow or crawl. A clean and well-coded architecture is therefore just as important as a logical menu navigation. This way you will do justice to all parties.

Backlinks as the most important OffPage factor
Inbound links or backlinks are references that lead from other pages to your own. The following applies: A backlink profile should be natural and of high quality. Maybe the word "natural" seems a bit unusual to you in this context. The point is that backlinks can be created naturally. This means that a webmaster becomes aware of your content because it is a relevant and suitable addition to his own content and therefore links to your site. Unnatural ways to build backlinks include link purchases or private blog networks. Since Google does not like to see such things, these methods are penalized.
However, this doesn't mean that you have to wait and twiddle your thumbs until inbound links arise all by themselves. A good and Google-accepted option is content outreach. Here you search for suitable pages that can link to your content and approach the webmasters specifically. They can decide for themselves whether the offered content fits well to their content and delivers the desired added value for their own visitors. These links from external sites to yours are evaluated by Google as a recommendation. This method is called link building, and it helps you to achieve better rankings.
You should urgently keep your hands off of it!
In the context of ranking factors, there are various methods that Google does not like to see. The consequence: You risk being penalized and thus worsening your rankings. Such measures belong to Black Hat SEO and are for example:
Keyword stuffing
Cloaking
Duplicate Content
Thin Content
Phishing pages
Misleading redirects
Link exchange programs
Hidden/invisible texts or links
Private blog networks
Page Experience and Core Web Vitals as THE new ranking factor?
From June 2021, a new ranking factor will accompany us: Core Web Vitals. These are now the talk of the town in the wake of the Page Experience Update. They are supposed to provide information about the performance of your website with the help of actual usage data. The Core Web Vitals consist of three parts.
Loading time
Interactivity
Stability of the content during loading (Visual Stability)
These three signals are combined with existing search signals. This gives Google a holistic picture of a user's page experience with your site.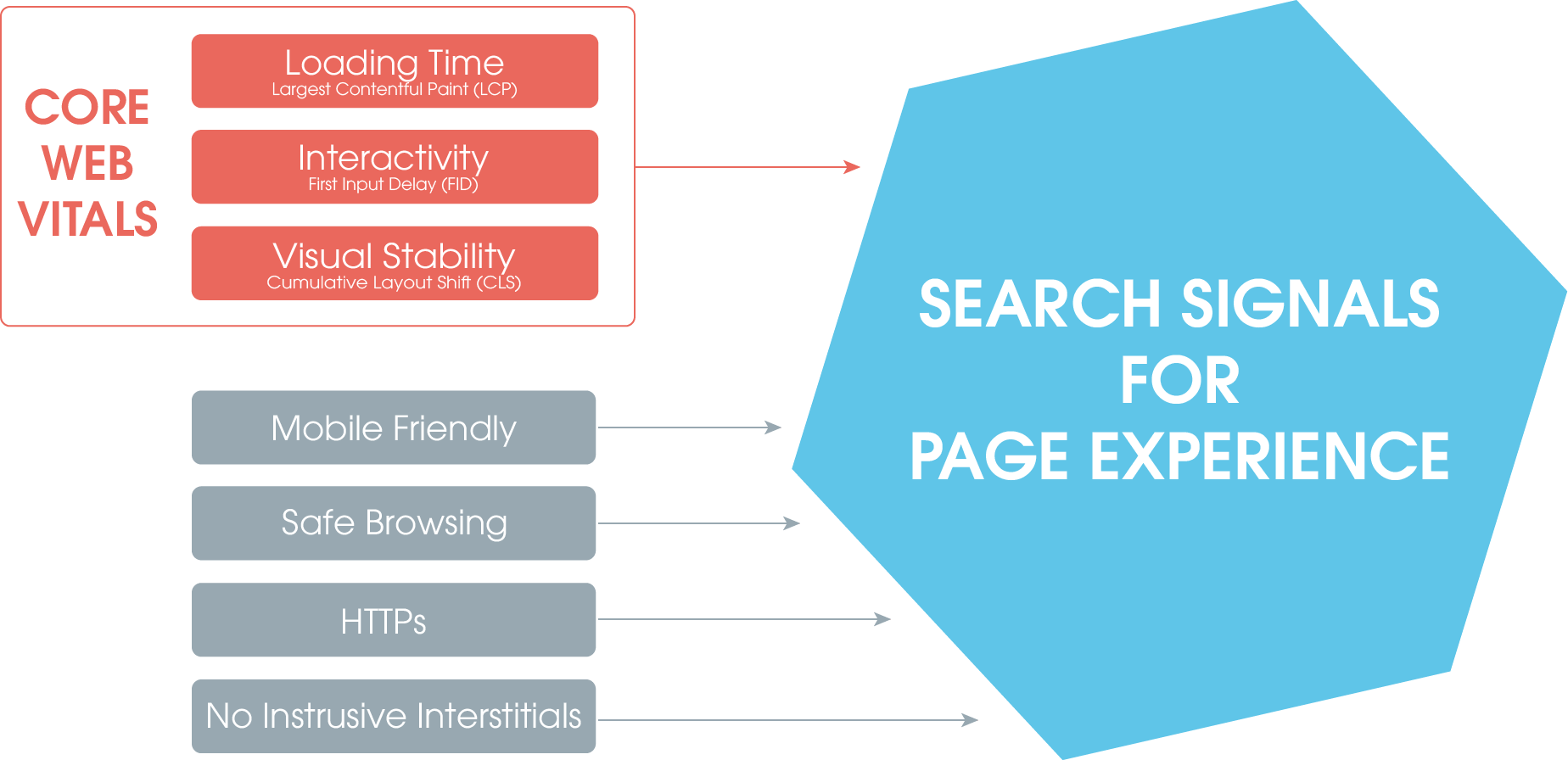 The consequence: pages that perform well in these areas are rewarded with better rankings. The Page Experience Update pays off on Google's ultimate goal: Provide users with valuable information without making access to it too complicated. A pleasant and simple experience with the web pages is therefore always rewarded.
Conclusion: awesomeness as the most important ranking factor of all
Back in 2017, Google Search Advocate John Mueller's answer was that "awesomeness" is the solution to good rankings.
Awesomeness.

— 🍌 John 🍌 (@JohnMu) September 6, 2017
The fact is: he's not entirely wrong. The reason is that great content spreads almost by itself on the web. If Google notices that this content matches the search intentions of many users, it will be displayed to other searchers. The result: the content goes viral or receives top rankings in search.
Of course, you can still help a little here. You can do this by paying attention to various ranking factors and thus manually triggering a better ranking. A combination of great content and on-page and off-page optimization is therefore the perfect solution to provide Google with the ideal basis for good rankings.
FAQs
What does ranking mean in search engines?
Ranking refers to the position a website occupies on the search results page.
Why is it important to have good rankings?
The higher your website is positioned in the search results, the higher your traffic and clicks. In addition, your visibility increases significantly. Especially the click-through rate shows you how important it is to have a good ranking. About 60% of the clicks go to the first place and only 5% to the fourth place.
How many ranking factors are there?
There are over 200 ranking factors – but not all of them are officially confirmed by Google. However, the work of search engine optimizers in recent years has identified some signals that have an influence on the positioning in the search.
Are the individual ranking factors weighted differently?
Yes, definitely. This is mainly due to the fact that Google differentiates the individual ranking factors according to industry and niche. Depending on which one you belong to with your site, factors can be weighted in different ways.