At eology we have high standards for the quality of our work! We always try to achieve the best for our customers and we are fully committed to this every day. In order to make these quality standards visible to all customers and interested parties, we are happy to have our work audited by independent institutions such as the BVDW and commit ourselves to adhering to certain quality criteria. In addition, our customers can benefit from our numerous partnerships. Learn more about our certificates, awards and partnerships here.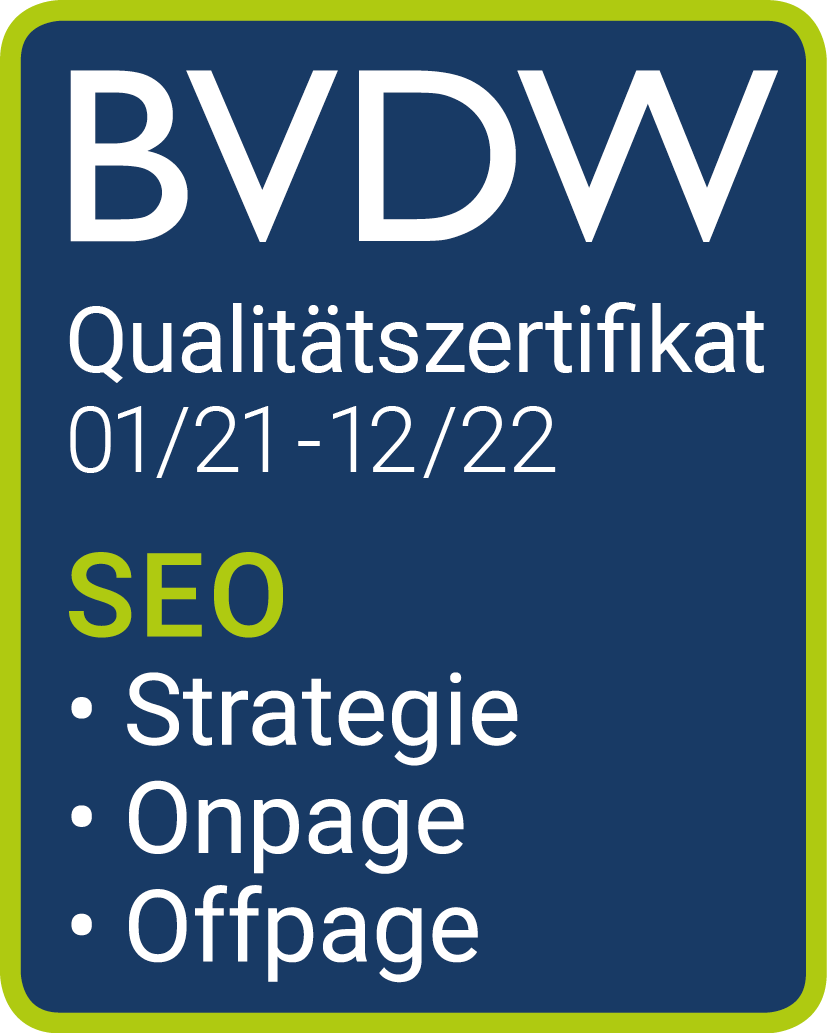 The BVDW awarded eology 2021 the quality certificate for search engine optimization for the fourth time in a row. We were one of only a few agencies to receive the certificate in all three SEO disciplines: strategy, OnPage and OffPage. To receive the certificate, we undergo an annual audit by an independent council of experts. Evaluation criteria include working methods, customer satisfaction and experience.
We are signatories of the BVDW Code of Conducts Search Engine Optimization. With the signature we commit ourselves to comply with certain quality criteria in the field of SEO. These include campaigns and projects as well as strategic consulting. We thus contribute to a better transparency on the market with regard to methods and working practices of agencies.
In our content marketing services, we adhere to the BVDW's Code of Conduct Content Marketing. A separate focus group has drawn up quality guidelines for this. With our signature, we commit ourselves to taking these criteria into account in our daily work in order to continuously guarantee the quality of our services.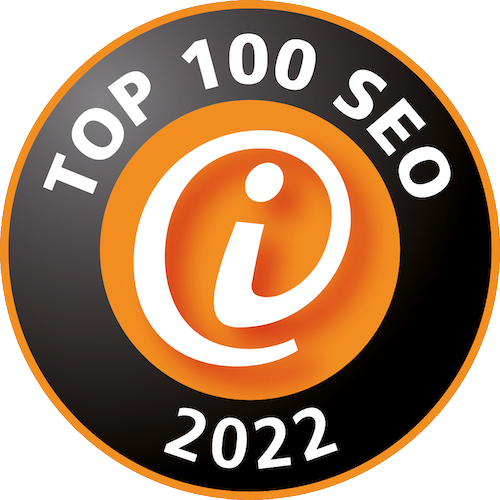 iBusiness determines the top 100 of the most important German-speaking SEO service providers every quarter. Since 2016, eology has carried the seal "Top 100 SEO Agency". The assessment basis of the list is the industry visibility index, which iBusiness determines based on the ranking position of the companies for SEO-relevant keywords in Google. The calculations also include other data, such as the number of employees or activities as a speaker.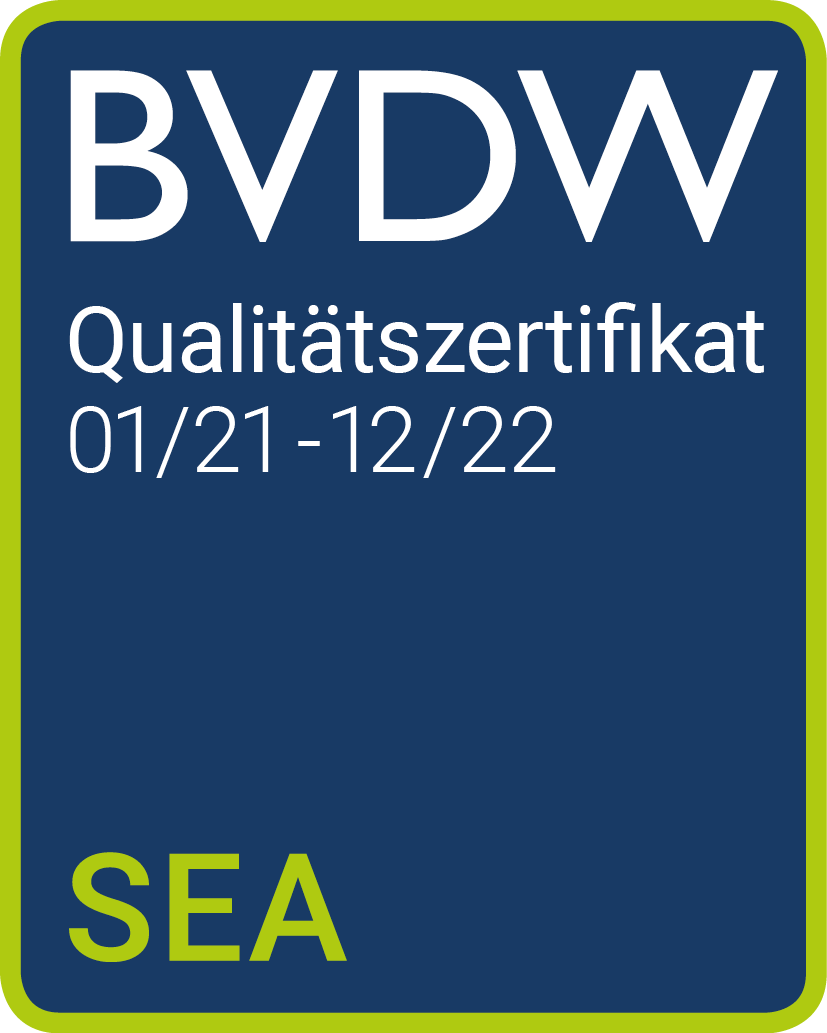 For the fifth time in a row, the BVDW awarded us the SEA Quality Certificate in 2021. The expert panel of the BVDW certifies that we work professionally at a high technological level in the field of search engine advertising. Our employees demonstrate optimal qualifications and we make our contribution to the SEA industry. In addition, our customers evaluated the cooperation with us.

We also adhere to the BVDW's Code of Conduct Search Engine Advertising in our SEA services. A separate focus group defined quality criteria for search engine advertising. With our signature, we commit ourselves to taking these criteria into account in our daily work in order to continuously guarantee the quality of our services.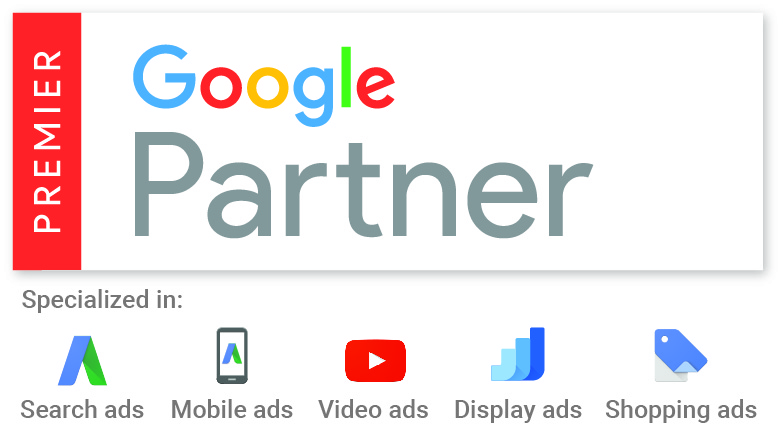 With our award as Google Premier Partner we prove that we are experts for Google AdWords in all five categories Search, Mobile, Video, Display and Shopping Ads. We meet all the requirements in the areas of AdWords spending as well as maintaining and expanding our customer base. In addition, we successfully promote our revenue growth, but also that of our customers.

As an official Microsoft partner, both our clients and we benefit from the partnership. We offer our clients high-quality services and in-depth knowledge of online marketing and technology to achieve optimal results with Microsoft Ads. As a partner, Microsoft offers us support, services and solutions for a successful cooperation with our customers.
By being certified as a Sistrix Toolbox agency, we are able to create accounts for our clients in the Toolbox and manage access rights and modules. This enables us to collaborate better, as projects can be worked on together with the customer. In addition, we succeed in an easier evaluation of the data and a transparent documentation of the developments.
We have been awarded the German Agency Award for the third year in a row! The German Agency Award is given annually to recognize the outstanding achievements of advertising, marketing and Internet agencies. We are very pleased to be able to realize such successful projects together with and for our customers.