Google Reviews – How to get reviews and what they bring you!
Google Reviews – What are they and where can you find them?
How important are Google reviews for your business?
How to get Google reviews
Guide: Dealing with Google reviews
You should also know these rating portals
Excursus: Submitting Google reviews – this is how it works!
Conclusion
Google Reviews – What is it and where can you find it?
You have probably seen Google reviews before: These are the small yellow-orange stars that are played out in connection with Google Maps next to the classic SERPs. These are reviews that Google users give because they have had contact with the company in some way. In this way, they make their personal experiences public and make it easier for other users to make their own decisions.
You will find the reviews, if any have already been submitted, on the right side of the additional information about the company. However, it may be that reviews are only displayed for everyone after five reviews have been submitted.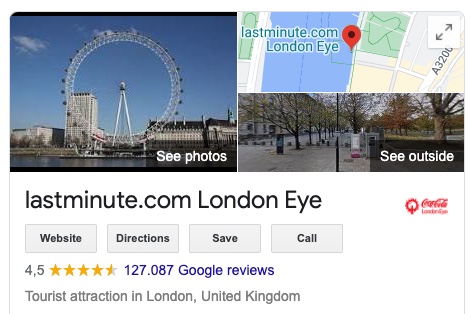 You also have the option of adding reviews to your search results via so-called rich snippets. For this, you need a valid markup for reviews. You can find this on schema.org. Thus, reviews are displayed directly in the Google search in your search result or optionally on the service and product level. Consequently, interested parties immediately see how well the respective consumer product is currently received by customers. These so-called review snippets can increase both clicks and conversion, and thus sales.
Consequently, you generate on the one hand the reviews stored in Google My Business, which you can find in the info box on Google, and on the other hand those stars that become visible in the search results themselves as a rich snippet. These come from reviews of the respective page.
How important are Google reviews for your business?
As you can probably imagine, Google reviews are extremely important for businesses. They often tip the scales to convince a customer of the company, its services or products. In an information society like ours, many purchasing decisions are based on recommendations. It doesn't matter whether these are conveyed by an acquaintance or whether they come in the form of reviews from the internet from an unknown person. Reviews are always an important signal for social proof. They can influence the user's decision both positively and negatively. Good reviews are therefore essential to be well perceived on the internet. Ultimately, this is the prerequisite to convince potential customers of your products and services.
Google reviews and SEO
Reviews also influence the search algorithm, because they are one of the numerous ranking factors of the search engine. If your company stands out due to many good reviews, this sends decisive signals to the crawler. This in turn can lead to better rankings. Reviews therefore help you to become not only more visible, but also easier to find. The system behind this is relatively simple: companies with many reviews tend to get more traffic on their website. Google recognizes this and interprets the whole thing as follows: The numerous visits, in combination with good reviews, index an added value of the page with regard to the user. And that is exactly what Google wants for its top search results – helpful pages!
Google reviews and local search
Reviews are also important in local search. This primarily has a psychological background: If a user is looking for a good hairdresser in their city, for example, they are more likely to make an appointment with a salon that has better Google reviews. Obviously, a positive review gives users a certain amount of confidence in the business. In fact, a study by searchengineland shows that 88% of users trust online reviews as much as personal recommendations.
Google reviews and mobile search
When users start a search on their mobile device, they are either on the go or need results within their personal radius. To find the perfect local offer, consumers prefer to use their smartphone. In 2014, Google's Understanding Consumers' Local Search Behavior study showed that around 50% of users who use mobile search visit the store in question in the next 24 hours.
How to get Google reviews
There are several ways to get reviews. The easiest is to ask your family, friends and acquaintances for reviews. As a first step, this is very helpful and easy to do. Also, this is how you get your first review stars to show up. You should know that Google sometimes shows reviews only from a number of five ratings. Existing stars may also encourage other customers to leave a review. Therefore, you should always ask satisfied buyers or regular customers for a review.
One of the best ways to get reviews is to make the review process as easy as possible for the customer. You can do this, for example, by placing QR codes on your website and/or in the store. You can also include the rating link in your newsletter or similar. Both methods lead the consumer directly to the Google reviews and increase your chances that they will actually share their feedback. If you run a brick-and-mortar store in addition to an online store, you can also print the rating link and/or QR code on business cards or flyers and hand them over to the customer upon purchase. This gives them the opportunity to access your rating page quickly and easily from home. Similarly, you can use follow-up e-mails for your online store to ask your customers about the product/service after a purchase or order. If you offer the possibility to submit a review directly in the mail instead of the link or QR code, this increases your chances again and speeds up the evaluation process.
If you have already tried these methods and would like to go one step further, you can encourage customers to submit reviews by offering a special incentive. This could be, for example, participation in a competition or a discount voucher for the next purchase. You can also invite customers to participate in product tests or free trials. In return, you can ask them to share their experience with the product or service. It is always helpful to find out how satisfied the users were in order to avoid bad reviews as far as possible. Also, tell the testers that a review is not mandatory, but that you would be very happy about it.
This will help you to get Google reviews:
Reviews by family, friends, acquaintances, regular customers and satisfied new customers
Distribute cards with rating link or QR codes in the store
QR code or rating link present in store or on website
Provide incentive to rate (e.g. through competitions, etc.)
Free product tests linked to subsequent ratings
Short and uncomplicated evaluation process
How to get the rating link
The link makes the evaluation process easier for your customers. You can get it by logging in to Google My Business with your Google account. Select the entry or location for which you want to have the link and click on it. After that, you are on the "start page" of your location. Here you will find the field "Get more reviews" on the right side of the dashboard. If you click on the button "Share form" you will get the shortlink to your reviews.
If you want to make the whole thing alternative, you can also convert the link into a QR code. You can use a free QR code generator from the web. This is useful if you want to present the link in a place where it cannot be clicked – i.e. in stores, as flyers, on invoices, etc.
Guide: Dealing with Google reviews
First rule: Every user should feel that his opinion is valued. This includes responding to reviews, liking and commenting on them. This is the only way to convey that you really care about the customer's opinion and that you take the feedback seriously. Very important: Thank people for their reviews!
This is how you respond to negative Google reviews
The biggest problem with reviews is that they are often only given when someone is dissatisfied. It is in the nature of man to give his opinion only when he has had a negative experience. It is therefore all the more important that you consider how you want to react to criticism or bad feedback.
The fact is that you should never ignore bad reviews! This will only make the user more dissatisfied. Instead, try to address the user's problem and help them. Keep the following rules in mind when formulating your response:
Remain friendly and factual.
Answer briefly and competently. Do not justify yourself.
Own up to your mistakes and remain honest.
Provide a means of contact through which problems can be clarified in more detail.
Answer individually – nothing comes across worse than copy and paste.
Always keep in mind that your answers are just as publicly viewable as the reviews you submit. It is therefore important that you do not scare off potential customers. A sympathetic impression is the be-all and end-all. Show other users that you care about the criticism, that you want to learn from it and improve. If this feeling is not conveyed, other users will be deterred from leaving reviews – regardless of whether they are positive or negative.
Hardship case: Delete Google reviews
If reviews are possibly offensive, the last step you can take is to have Google delete the review from your company profile. However, Google does not react to every report directly with the deletion of the entry. The reported review must meet at least one of the following requirements:
Spam or fake content
Off-topic content
Click prompts or links
Illegal, sexual, offensive, dangerous or derogatory content
Identity theft
Conflicts of interest
If any of the above apply, you can request deletion. This works by reporting them as inappropriate. This is how you do it:
Log in to your Google My Business account.
Select the "Manage reviews" tab in the left-hand field.
Using the three dots that appear at the top right of the rating, you can now report the review as inappropriate.
In the last step, enter your email address and the type of violation.
After you have pressed "Send", your request will be sent to Google. So you don't have to do anything for the time being. However, it can happen that Google does not share your opinion and therefore does not delete the rating. In this case, you should comment on the corresponding post to appease the situation.
You should also know these rating portals
Besides Google, there are a lot of other review portals that users often turn to for information. Therefore, it can be interesting that your products or services are also rated there. The following portals are important:
Trustpilot is active internationally for online stores. Users must first register – as with Google – in order to submit a rating.
Yelp is a rating portal for companies and service providers. Product reviews are not covered here.
TrustedShops is an important seal of approval that attaches great importance to buyer protection. Customers rate the online store on the portal, which can then in turn integrate the seal of approval on its website.
Golocal, as the name suggests, is of interest to local service providers and thus local searches.
Provenexpert is a rating portal for companies and service providers. It is advantageous that reviews from other portals can also be integrated.
In addition to common rating portals, you should not underestimate the effect of reviews on social channels. Facebook, for example, offers the opportunity to submit reviews. The recommendation value generated from the reviews can be integrated into networks and also appears as an extension in the SERPS.
As you can see, there is a suitable review portal for every purpose that users can access.
Excursus: Submitting Google reviews – this is how it works!
You can submit a review in six simple steps:
Log in to your Google account (you can read how to do this here).
Search for the company you want to review or the company profile on Google.
Press the "Write review" button to rate.
Choose how many stars you want to give.
Use the text field to also write a written feedback or add images (optional).
Click on "Post" or "Publish". After that, your rating will be visible to the public.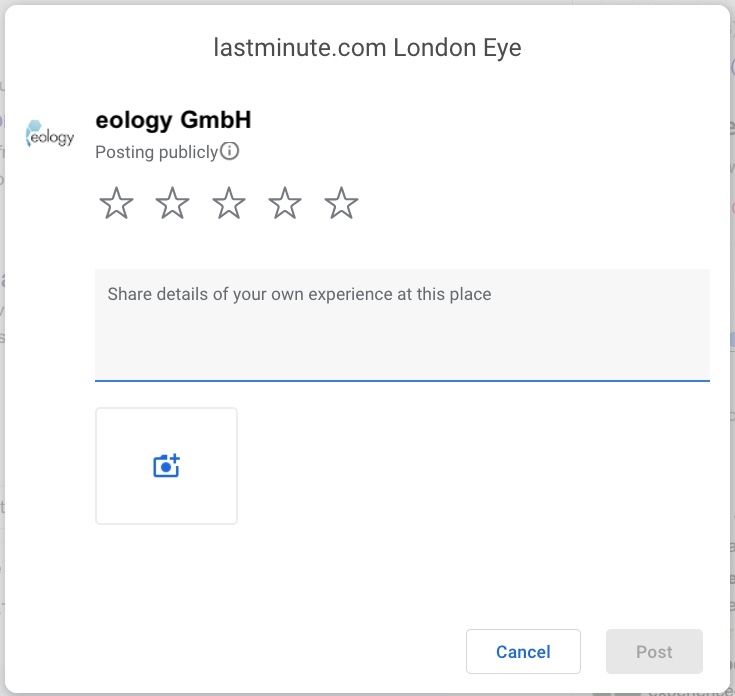 Rate anonymously on Google
Since you need a Google account to submit a rating, this is never anonymous. This has a simple reason: It is to prevent fake reviews. It doesn't matter if you just give a star rating or even write a body text. Reviews are always played out with your name stored in the Google account.
For online stores, however, there is a special case: Google Customer Reviews. These are reviews that are not displayed with the usual reviews in the Google search, but reviews that are integrated on your own website. Google customer reviews are set up through the Merchant Center and published on the website. If you want, you can insert the logo and logo code anywhere on your site. This will increase your visibility to your users. If a customer wants to rate you via Google Customer Reviews, it's easy:
Users make a purchase in your online store.
They then receive an email survey (similar to the follow-up email mentioned above) asking them to rate their purchase experience.
All the reviews collected then flow into the seller rating and are displayed on your website via the logo.
Cool bonus: You can also include the customer reviews in Shopping Ads or Google Ads text ads in addition to your website.
Conclusion
Few people really enjoy giving Google reviews on a regular basis. If they share their opinion publicly, it is often about bad experiences with a company or brand. This is because users are more motivated to write a review when they are dissatisfied or angry. But bad reviews can put you out of business. Therefore, make sure that users share positive experiences with potential customers and encourage them to buy your products or services. Always consider the following points:
Who are you addressing?
How do you address this person?
Do you use special measures to get a review (e.g. discounts for next purchase, etc.)?
At what stage of the customer journey do you ask for a review?
If you have a clear picture of the review process, it will increase your chances of getting good reviews.
FAQs
Where do you find Google reviews?
If you Google a company, the rating stars are displayed in the company's info box. Here you can also see and read the individual flow texts of the reviews, as well as the company's responses to them.
What are the benefits of Google reviews?
Google reviews provide your potential customers with a social proof signal. This creates trust and can even be decisive for the purchase decision in some cases. In addition, reviews send an important signal to Google. They are among the ranking factors and thus influence your positioning in the search results.
Can you also rate Google anonymously?
Unfortunately no. Since you need a Google account for a review on Google, the name stored there is always displayed publicly. Among other things, this is to protect against fake reviews.