What is Yandex?
Simply put, Yandex could be called "Russia's Google". It is a Russian-Dutch company that offers a search engine and other services, similar to its direct competitor Google. The listed company is a multi-portal with now more than 30 different services. Thus, the founders Arkady Volosh and Ilya Segalovich have come a long way since its founding year in 1997. Yandex still has the largest market share for internet search in Russia, even displacing the world's leading search engine Google. Together with China, where the search engine Baidu dominates, the two countries are the only exceptions worldwide where Google is not the top search engine. The success here is easy to explain: The targeted language orientation according to Cyrillic letters give Yandex, similar to the Chinese characters at Baidu, a clear advantage over Google.
How is Yandex structured?
Visually, the Yandex search is similar to the Google search. There is a search field in which you can write your search query. Clicking on "Search" will take you to the SERPs, where the search results are displayed. There are also various functions such as image and video search, a mailing service, a map service and a translator. Thus, the Russian competitor offers similar functions to Google, but unlike its American competitor, it lists them directly in the search mask.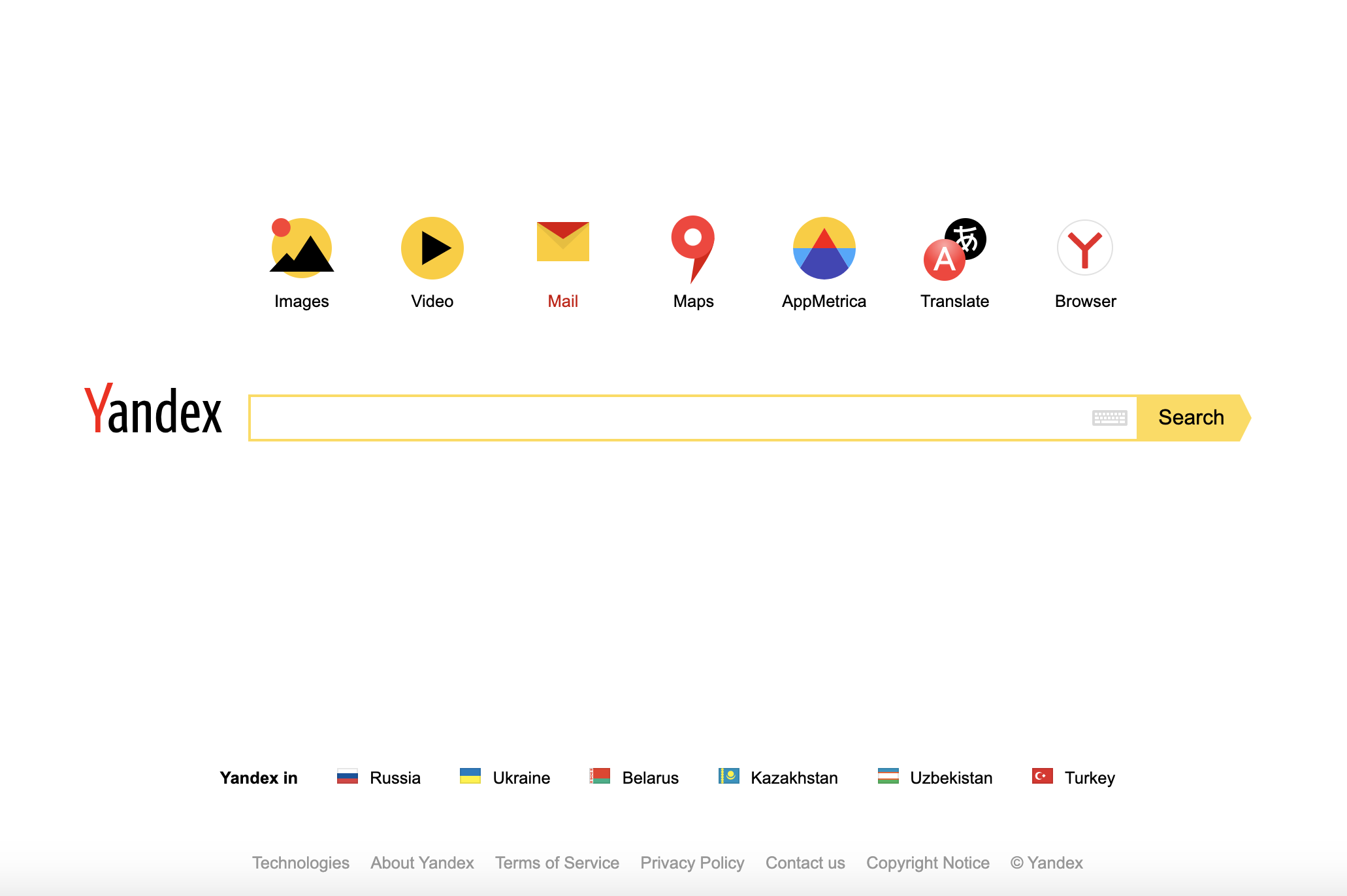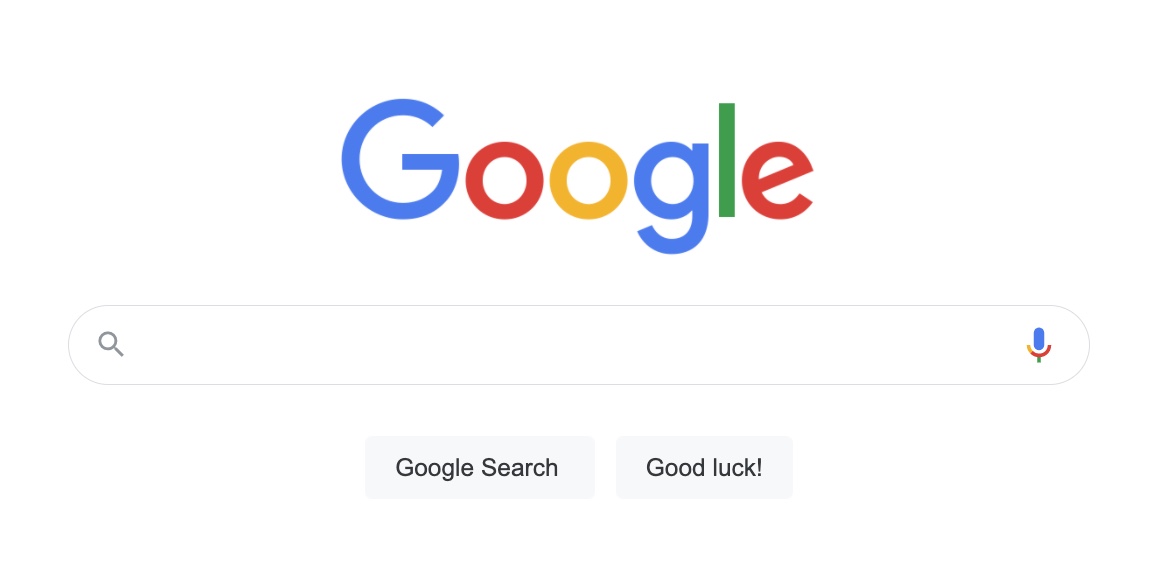 Both search masks change as soon as you receive the search results for a search query in the SERPs. The structure of the two competitors is similar here.

The Yandex product portfolio
Yandex now combines a wide range of services. While we know Netflix, Spotify, Uber, PayPal, Amazon and many more independent platforms, in Russia all these services are part of the group's product portfolio. The following services, among others, all come from Yandex:
| ENGLISCHE PRODUKTBEZEICHNUNG | BESCHREIBUNG | VERGLEICHBAR MIT |
| --- | --- | --- |
| Yandex.Search | Web search (incl. image and video search) | Google Search |
| Yandex.Mail | E-mail service | Gmail |
| Yandex.Money | Online payment service | PayPal |
| Yandex.Browser | Web browser | Chrome Browser |
| Yandex.Disk | Cloud storage service | Dropbox |
| Yandex.Musyka | Music streaming service | Spotify |
| Yandex.Rabota | Online job market | Stepstone |
| Yandex.Auto | Online portal for selling cars | Autoscout24 |
| Yandex.Nedwischimost | Real estate portal | ImmoScout24 |
| Yandex.Raspisanija | Portal for public transport departure times and flight departure times | Train and Flight Timetable Information Google |
| Yandex.Taxi | Online brokerage of taxis | Uber |
| Moi Krug | Social Network for professionals | LinkedIn |
In addition, similar to Google, there are various services, such as photo search (Yandex.Fotki), a translator (Yandex.Perewod), a news portal (Yandex.News) and a map service (Yandex.Karty), which also has a panorama function similar to Google Street View. Comparable to Google Ads, there is Yandex.Direct, through which users can place search engine advertisements. Relatively new is Yandex.Island, which is very similar to Google's Knowledge Graph. In addition, there is Yandex.Metrica. In terms of its functionality, this tool is comparable to Google Analytics and helps users to carry out targeted analyses. So, you can see that the Russian search engine leans heavily on its global competitor Google and copies functions.
Yandex.Metrica in detail: An alternative to Google Analytics?
In purely visual terms, Yandex.Metrica is in no way inferior to its international competitors. It resembles all known web analytics tools and presents everything clearly in a dashboard. The tool accommodates the usual standard metrics:
Visitor numbers
Sources of traffic
Analysis of users in new users, unique users, etc.
Time on site
bounce rate
and much more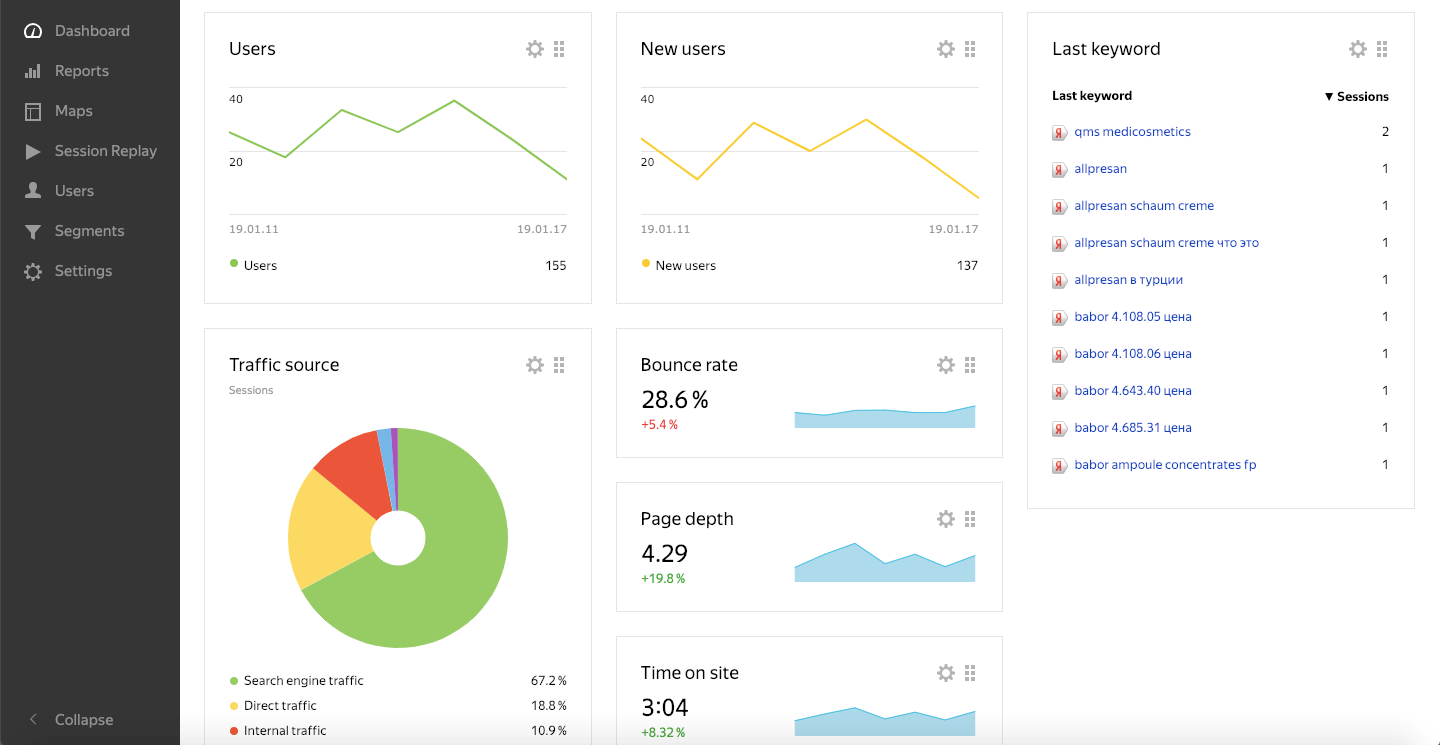 Like Google Analytics, the Russian counterpart is free of charge. To use the tool, you only need your own account, similar to Google.
As a further function, Yandex.Metrica offers the WebVisor. Here you can view a complete user session. In Germany, however, this is controversial because it does not comply with data protection laws. Anyone who uses this function is in breach of the law.
Yandex.Metrica also offers other functions. The so-called ScrollMap shows how users behave while scrolling the page. The LinkMap, in turn, shows which links are clicked on particularly frequently. With the help of the content function, you can see which content was particularly interesting for users. In addition, there is also a reporting function with which you can view the evaluation in full.
In general, the use of Yandex.Metrica is very controversial in Germany, as it often cannot be integrated in accordance with data protection laws. If you use Yandex.Metrica on the Russian market, however, this is possible without any problems. The tool was developed for this purpose and complies with the generally applicable laws of the country. WebVisor, ScrollMap and LinkMap can help you to optimize the appearance of your site and your content.
Another Yandex service: Interactive Search Snippets
Interactive Search Snippets are also part of the Yandex product portfolio. These are functional fields that webmasters can include on their site. These in turn relate directly to the search query that the user has made. The good thing is that these fields or information boxes can be individualized and thus completely adapted to one's own corporate design.
Battle of the giants: Yandex vs. Google?
Similarities
Similar to Google, Yandex's main source of income is paid advertisements that are displayed throughout the entire network. In addition, the search engines are similar in scope. Both offer image and video searches, as well as news, translator functions and map services. In addition, there are parallels in Yandex.Island and the Google Knowledge Graph. All in all, the business models of the two competitors are very similar.
Differences
The biggest difference between the two search engines is their country focus. While Google is the market power worldwide (with a few exceptions), Yandex has a strong focus on Russia and neighboring countries. Yandex thus tends to remain regional, while Google operates globally. The clear advantage of this is that the two companies only get in each other's way in a few countries.
Yandex and SEO
With regard to search engine optimization, there are several aspects that need to be considered in connection with Yandex. OnPage optimazation is as important for Yandex as it is for Google. Especially with regard to usability, you should also make sure that everything is user-friendly with the Russian search engine.
With regard to the content of your website, you should make sure that all your content is written in Russian. When evaluating your site, Yandex also pays attention to concrete spellings, linguistic style and error-free grammar. Unlike Google, you should also take into account with Yandex that you always write your keyword for which you want to rank in the same way as you would like to appear in the search results. While Google now displays the appropriate search result for variations of the keywords, Yandex is relatively strict and inflexible.
Backlinks also have a different meaning for the Russian search engine than for Google. They do not count as a ranking factor and are not included in the evaluation of your page. Their low importance is due to the fact that Russia had to struggle a lot with spam links in the past. So quality is far more important for Yandex than quantity, just as it is for Google.
There are further differences in the headings and the metas. A coherent structure that is concise but meaningful is the top priority here.
Yandex and SEA
Search engine advertising via Yandex works similarly to Google. Yandex.Direct is the direct counterpart to Google Ads and serves as a tool for creating advertisements. These are in turn displayed in the Yandex search network to address potential customers. Here, too, the ads are billed in the usual manner via the CPC model.