Checklist: Google's tips for the holiday season
Maybe you've seen it too: Gingerbread and Christmas sweets in the supermarket! Creeping closer towards the holiday season, which is why little by little the first preparations are underway. But it's not just in the stores that Christmas is starting – in e-commerce, too, everyone is in the starting blocks. Google now gives first tips on what retailers should do in view of the holidays to stand out from the crowd. In addition, a series of updates and new tools have been announced to help merchants.
What tips does Google give merchants?
Consumers now aren't just about online shopping. Corona and the bygone days of online consumption are luring more and more customers back into physical stores as well. All the more important it is to adapt and be prepared for the coming festive season. Google gives four specific tips for this:
Highlight differentiated fulfillment options
Present products in multiple locations on Google
Create a connection of online and physical worlds
Use new tools (automated formats, scheduling tools, and reports) to ideally prepare
Highlight-differentiated-fulfillment-options
What are your benefits when it comes to the speed and simplicity of your shipping options? How straightforward is your order processing? That's exactly what Google is now helping you to highlight. Therefore, there are now direct hints in the Google search and shopping results that show you how the shipping and return conditions of the merchants are – if they specify them. You can find this innovation in both free and paid listings. In addition, some results give you directly also a delivery date. Last but not least, extended return periods are also played out there, which is a great advantage, especially in view of the upcoming holidays.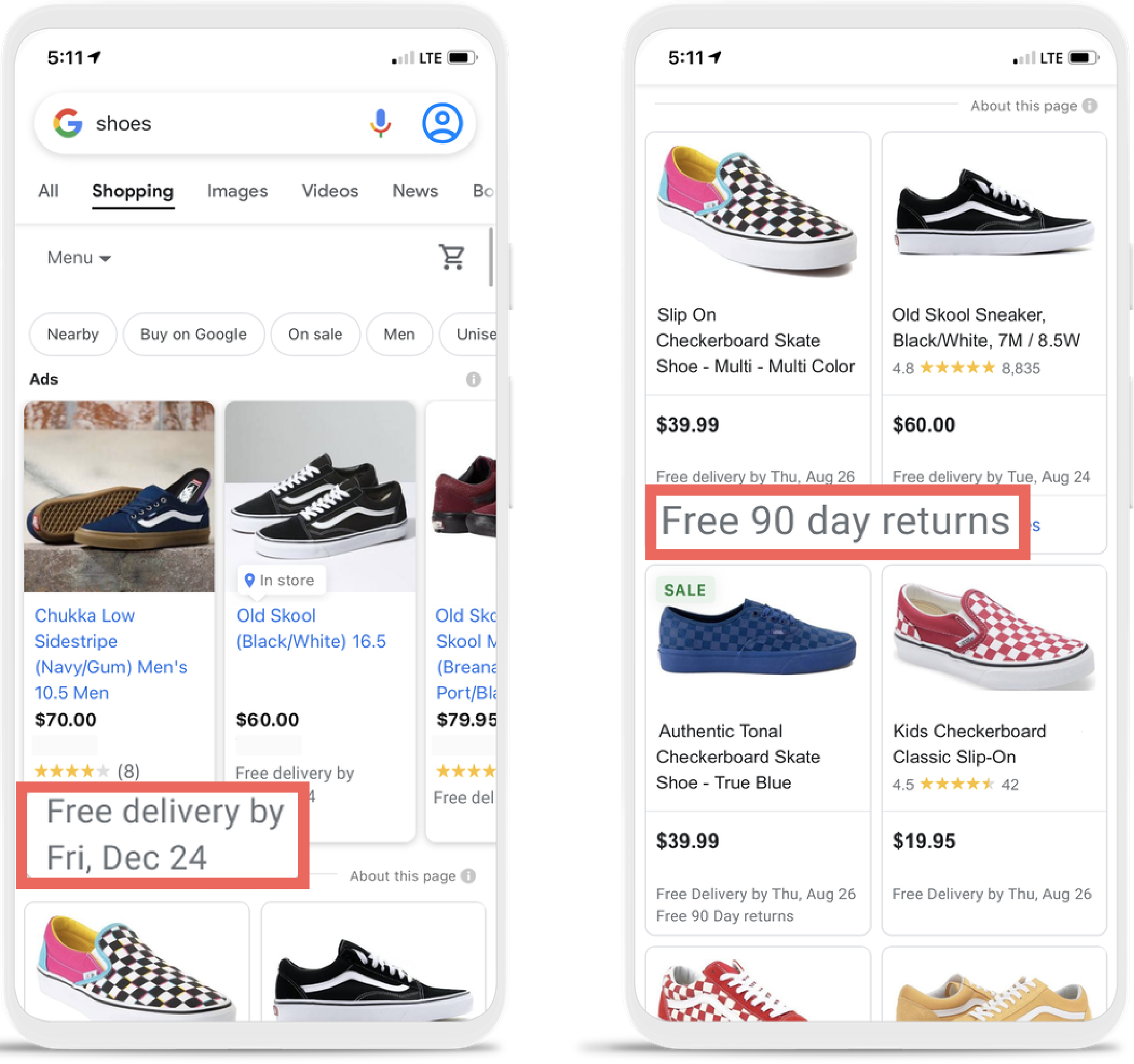 Presenting the products in different places on Google
Google Shopping is now a firmly established e-commerce marketplace. If you use Shopify, WooCommerce or GoDaddy you can even place your products directly from these platforms on Google. This way you increase the chance of being found and reach more buyers.
Another possibility to place your products is YouTube. There you can use videos as a kind of "virtual shop window". If you then link the video promotion campaign to your product feed, you will attract customers to your website.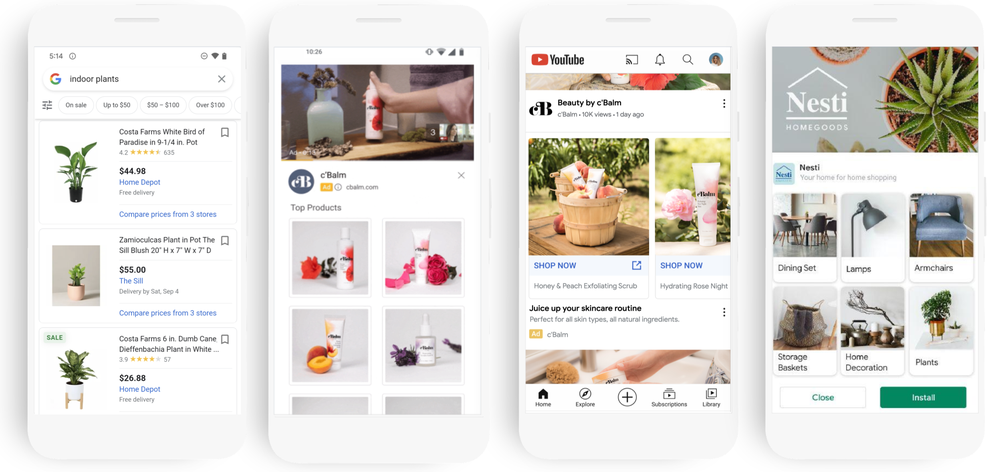 Creating a connection between the online and physical worlds
How many times has this happened to you – You need something, but you don't want to wait for an online store to deliver it to you. So you search Google for "dog bed near me", for example. For this very purpose, Google has now introduced a label that shows customers whether they can get an online store's product at a physical store nearby.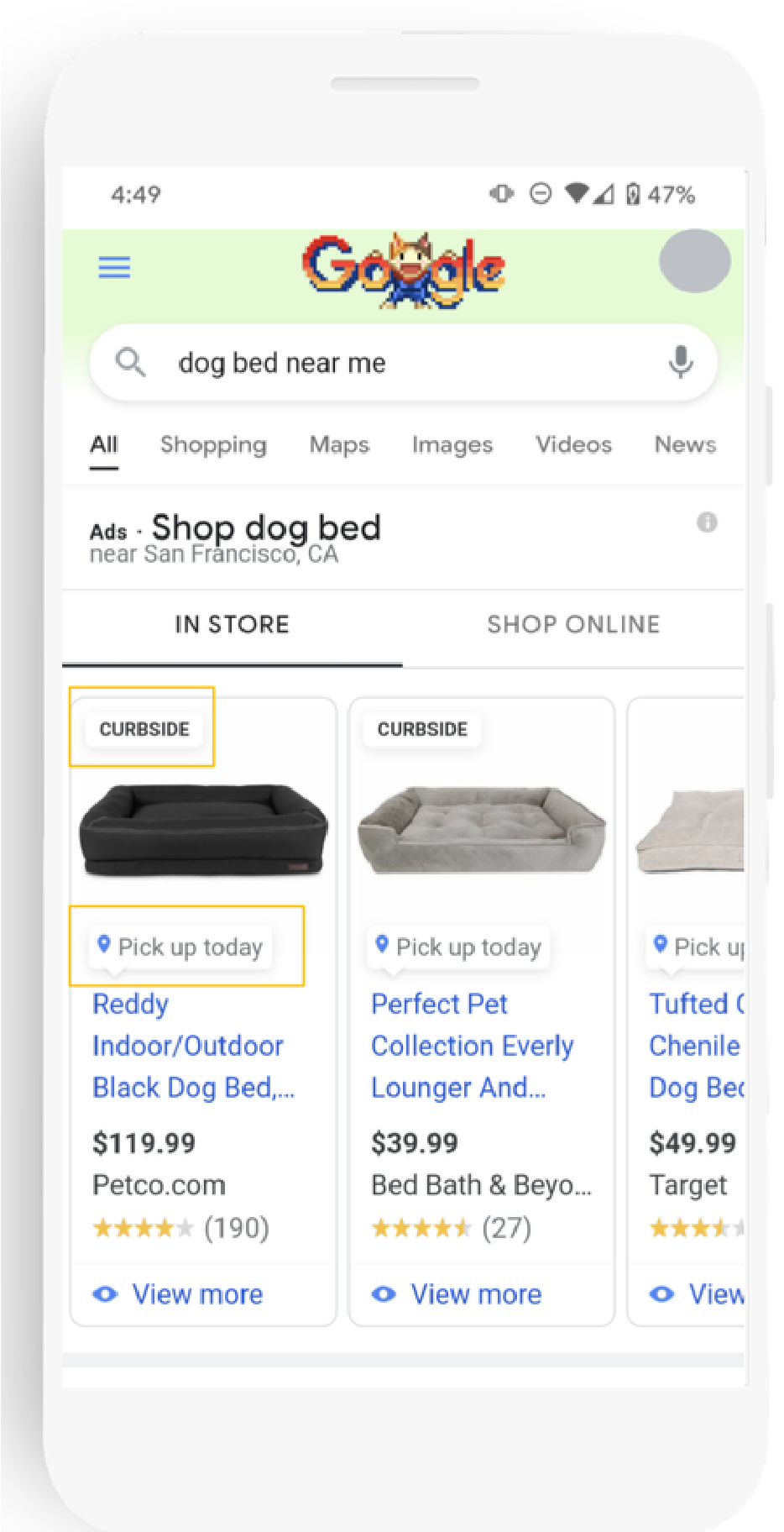 Another new feature is that you can now also include products in your Google My Business account. For this purpose, there is a tab "Products", where you can add products available in your business. Here it is of course important that your business profile is always top maintained and up to date, to save customers from disappointment.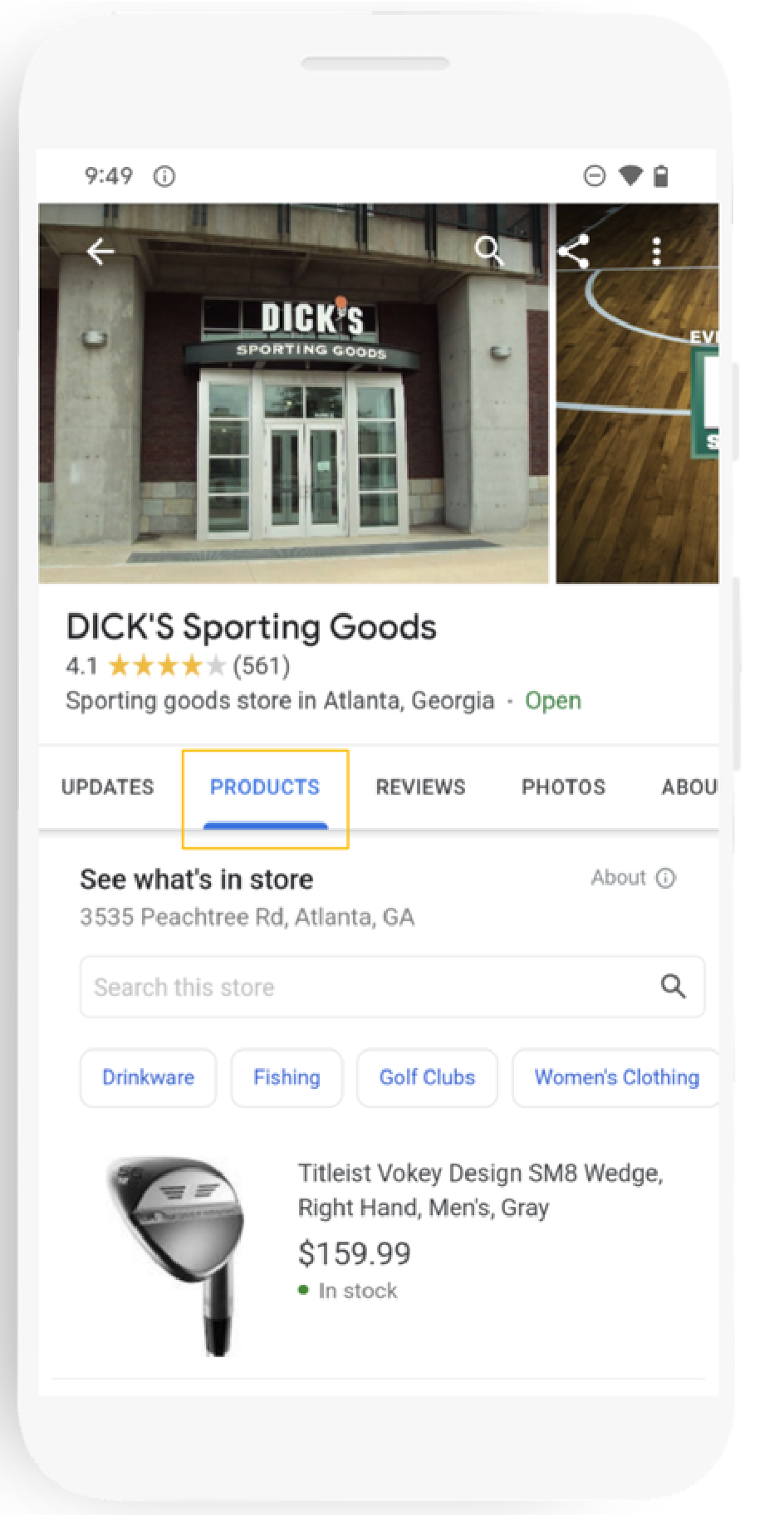 Using new tools (automated formats, planning tools and reports) for ideal preparation
To help you prepare for the holiday season, Google has provided more tools and reports. These include, for example, the Bestsellers report, which gives you insights into the most popular items you should have on hand for the holidays. Another interesting report that will be available in the future is the Deals Report. This will show you in real time how well sales or promotions are performing.
Tools that can assist you also include:
the page "Statistics", which tells you trends in the market and existing buying interest
the performance planner, which helps you plan your advertising budgets and shows you how changes to the campaign will affect KPIs and overall performance
the Deeplink Validator, which checks deep links for Android apps and specific app links and gives you an evaluation of optimization opportunities
the deeplink effectiveness prediction, which lists URLs that you should implement as deeplinks.
Both deeplink tools are thereby only applicable if you and your company have apps.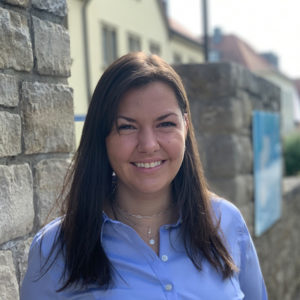 Lara Meyer completed her bachelor's degree in business administration, specializing in media business administration, at the University of Applied Sciences in Würzburg. As part of the eology marketing team, she takes care of the dissemination of the collected eology knowledge by sharing her know-how in magazines, blogs and journals.